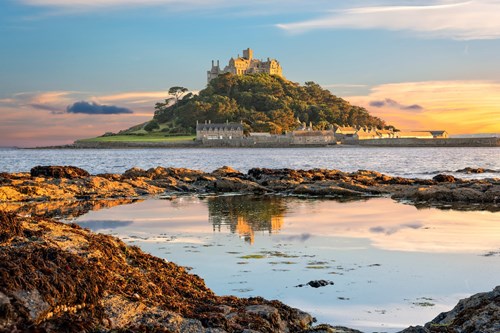 5 reasons for a staycation in Cornwall
23 / May / 2021
When you set off on holiday this year, why not simply head down to Cornwall? This diverse and beautiful county has so much to offer, whether you are travelling on your own, as a couple, group or family.
Forget airport lounges, language confusion and spending a small fortune: staycations are in and holidays in Cornwall should be top of your list! Here are just five of the reasons why…
1. Stunning scenery
When you picture Cornwall, do you imagine lush green countryside, dramatic cliffs, quaint fishing villages, golden sands and vibrant blue waters? Of course you do! Cornwall is famous for its beautiful scenery and utterly spoils its visitors with lovely views.
To be surrounded by such beauty ensures you instantly relax, take a deep breath and realise you've arrived at a truly special part of the world. It's the perfect setting for the perfect staycation.
At Tregoad Holiday Park, our visitors enjoy the very best scenery during their Cornwall caravan holidays. Our park in the Looe valley overlooks glorious rolling farmland within easy reach of all the things that make Cornwall such an incredible place to visit.
2. Fascinating history
Delve beneath Cornwall's beautiful surface and you will find there is incredible history to discover during your stay. Unearth the stories behind ancient stone circles and Bronze Age relics; mine shafts and ruined engine houses; castles; tales of King Arthur; smugglers; pirates; fishing and so much more.
There are numerous specialist and local museums throughout the county so choose one that piques your interest and learn something new about the rich history and culture of Cornwall. Alternatively, simply choose a walking route that takes in a ruined engine house or ancient site and learn as you explore.
3. Beautiful beaches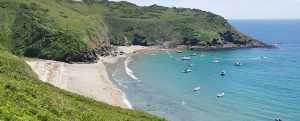 Surfing, sandcastles, sunbathing… Cornwall's beaches offer something for everyone and every activity. They are what holiday dreams are made of.
Pack a picnic and a book to simply lie back and relax the day away or schedule a surfing lesson and take to the sea for an action-packed afternoon. We know you will love the beaches here.
Tregoad Holiday Park is in easy reach of fantastic beaches. The hardest thing to do is cut them down to a shortlist! From the miles of golden coast at Whitsand Bay, to the small and secluded pebbly coves you'll discover, Cornish beaches each have a distinct character and something to offer during your Cornwall caravan holidays.
4. Wonderful walks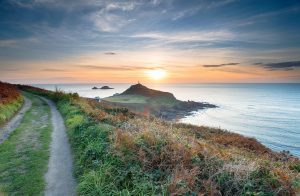 With the Southwest Coast Path offering miles of stunning walking opportunities right around the coast of Cornwall, it's no wonder people come here for walking holidays. It's unlikely you'll be taking on the whole path so why not seek out one of the countless circular routes of varying lengths that incorporate the South West Coast Path and other local beauty spots?
For rugged, wild countryside, Bodmin Moor is a great destination. Head up a tor for phenomenal views and a real sense of achievement!
You'll also find plenty of other walking routes along rivers, through farmland, deep into woods and exploring every corner of this beautiful, vibrant county. So, don't forget your walking boots when you come for caravan holidays in Cornwall!
5. Something for everyone
As if the scenery, history, beaches and walks weren't enough, Cornwall has something for absolutely everyone to enjoy.
For foodies, there are fantastic local restaurants including those with Michelin stars. Fans of a pint will love the local ale and cider scene. Shopaholics will find their fix at the boutique stores and high streets. For those heading on family holidays in Cornwall there are endless attractions from adrenaline sports to animal parks
…Have we missed anyone out? With plenty of walks and a welcoming atmosphere, it's even the perfect place for dogs!
Are you ready for a Cornish staycation?
So, you see, caravan holidays in Cornwall offer the perfect recipe for a dream vacation. Plus, you don't have the hassle or expense of travelling abroad.
Find out more about holidays in Cornwall by browsing our site and don't hesitate to get in touch with any questions. We look forward to welcoming you soon.