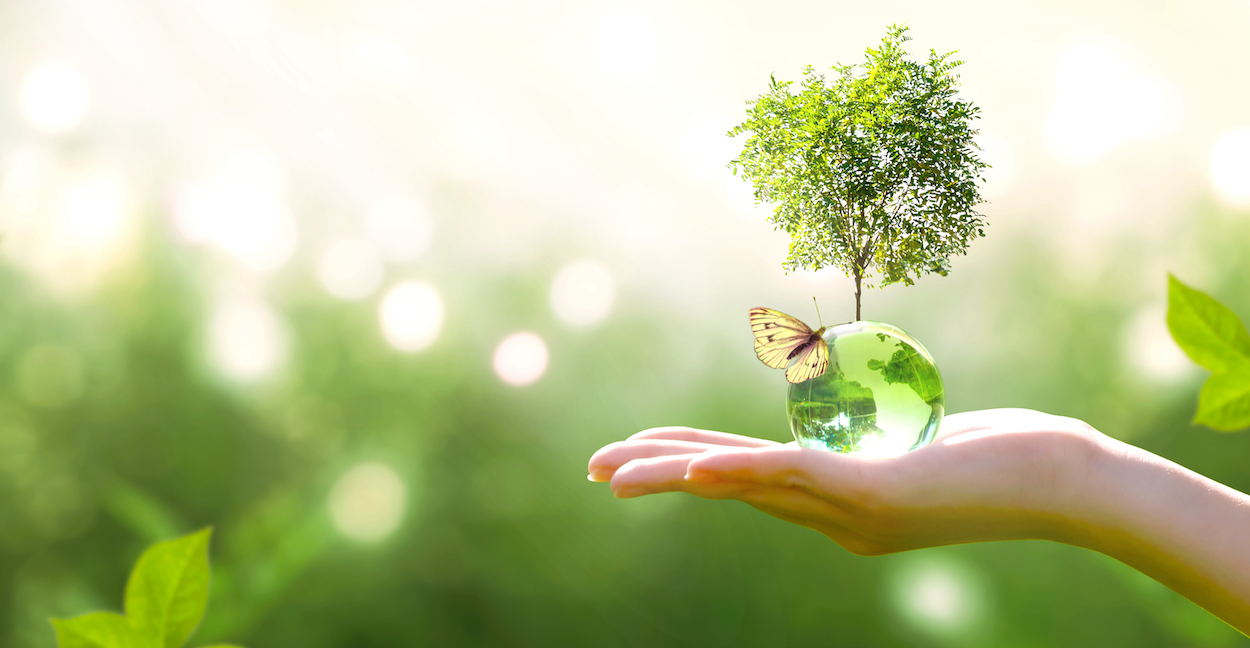 How to make your family holiday eco-friendly
07 / October / 2021
Recycling, composting, and cutting our water use: these are all things we might do at home to live 'greener' lives. However, what steps can you take to make your family holiday eco-friendly, too?
At all our holiday parks we are surrounded by beautiful countryside and close to the sea. Being immersed in nature makes us even more aware of how fragile the planet really is and how it is important for us all to play our part in protecting it. Even when you're away from home there are lots of things you can do to have an eco-friendly holiday without compromising on fun!
What does 'eco-friendly' mean?
We are becoming more and more aware of the impact we are having on the environment. Our carbon emissions contribute to climate change, meaning more natural disasters, while the waste we produce pollutes our countryside and seas.
Eco-friendly means 'earth-friendly' or not harmful to the environment. We can be eco-friendly in the choices we make, the products we buy and how we behave in an effort to minimise our negative impact on the planet.
If you're choosing holidays in Cornwall or Dorset it's likely that you love the coast and outdoors. Help us respect and protect these beautiful places by having a fun-filled eco-friendly holiday! Anything you can do to minimise your impact on the environment makes a difference. Here are a few ideas for inspiration…
UK caravan holidays are an excellent choice!
By avoiding air travel and choosing a staycation, you've already reduced your impact on the environment. Air travel is more polluting per person than car, bus, train or coach, so a shorter journey for a Waterside staycation is an eco-friendly choice.
At all our holiday parks we're also doing everything we can to be environmentally friendly and we're always improving how we operate.
When you visit, you'll notice:
791 solar panels which harness that beautiful sunshine
Installation of LED streetlights and accommodation light which use far less energy than the alternative
5 electric vehicles in our fleet
Pod-point electric car charging available at Chesil Beach Holiday Park (formerly Chesil Vista) &

Bowleaze Cove Holiday Park & Spa (formerly

Waterside Holiday Park)
A beach clean station at The Shack,

Bowleaze Cove

Beautiful Wildlife Lakes at Tregoad: bird & bat boxes made from recycled wood; bee hive for a wild swarm; more native plants introduced; educational handouts & info boards
Tregoad is a member of the Cornish Wildlife Trust 'wilder business' network
Beehives at

Bowleaze Cove

(and more to come)
A metre-wide border around fields at

Bowleaze Cove

for wild flowers & wildlife
Recycling points available throughout our parks
Local food used in bars & restaurants at all our parks: we aim for ingredients to travel a maximum of 40 miles
Recyclable or biodegradable takeaway containers
Bird boxes to be installed at Chesil Vista
More wildlife & wildflower areas to be created at

Bowleaze Cove

in 2022
All four of our holiday parks are taking part in the David Bellamy Blooming Marvellous Pledge for nature
These improvements already encourage wildlife, reduce waste and save hundreds of tonnes of CO2 per year. However, we want to do more. Our long-term goal is to use 100% renewable energy sources and supply all our own energy.
We take huge pride in our environmental efforts and encourage all our guests to do what they can to have a fun, eco-friendly time with us.
Plan your packing
Although it's tempting to fill the car to the brim with everything you might possibly need, all that extra weight means you'll burn more fuel on your journey. Pack sensibly and you'll not only reduce the clutter during your break, but contribute less carbon emissions when you travel.
When you're packing for your holidays in Dorset or Cornwall you can also make some eco-friendly decisions. For example, don't buy travel-size shampoos, body washes and toothpastes: instead use reusable containers and fill up from bottles at home
Stay local
Having travelled to such a beautiful part of the country, there's no need to travel far during your Dorset and Cornwall caravan holidays. There is so much to see and do a stone's throw from our parks that you can save time, energy and the planet by keeping your day-trips local.
Leave the car and travel by foot, bike or even horse. All of our holiday parks are close to the South West Coast Path which is perfect for a walk with stunning views. For more inspiration, check out our guides to local activities during holidays in Cornwall, and holidays in Dorset. There's something for everyone in easy reach of all our parks.
Choose inspiring days out
Heading to a beautiful beach, woods, hilltop or garden can inspire a love of nature and encourage your whole family to take steps to protect it.
If you're looking for something even more engaging during Cornwall caravan holidays with us, the Eden Project is the place for you. Their mission is to engage people with nature and demonstrate how working together can make a positive difference. Plus a trip there makes a great family day out!
Give food some thought
Eating local produce is not only good for the local economy but cuts food miles… and you're likely to enjoy the freshest, most delicious food available. Both Dorset and Cornwall have superb food options from land and sea so make sure you sample some local produce while you're away.
Don't forget the basics
Holidays are a great time to forget the stresses of everyday life, but you shouldn't forget a few simple things you probably do at home to protect the environment:
Avoid single-use plastics
Use reusable water bottles
Use reusable coffee cups
Recycle whenever you can
Don't litter
Switch off heating/lights/appliances when not in use
Choose eco-friendly gifts for friends and family
We're here to help
We hope this guide has given you some ideas of how to make your holiday eco-friendly, without compromising on fun. To find out more about our eco-friendly efforts.
We're sure you're looking forward to your break and if you need help with your booking, get in touch. Our team are here to answer all your questions.