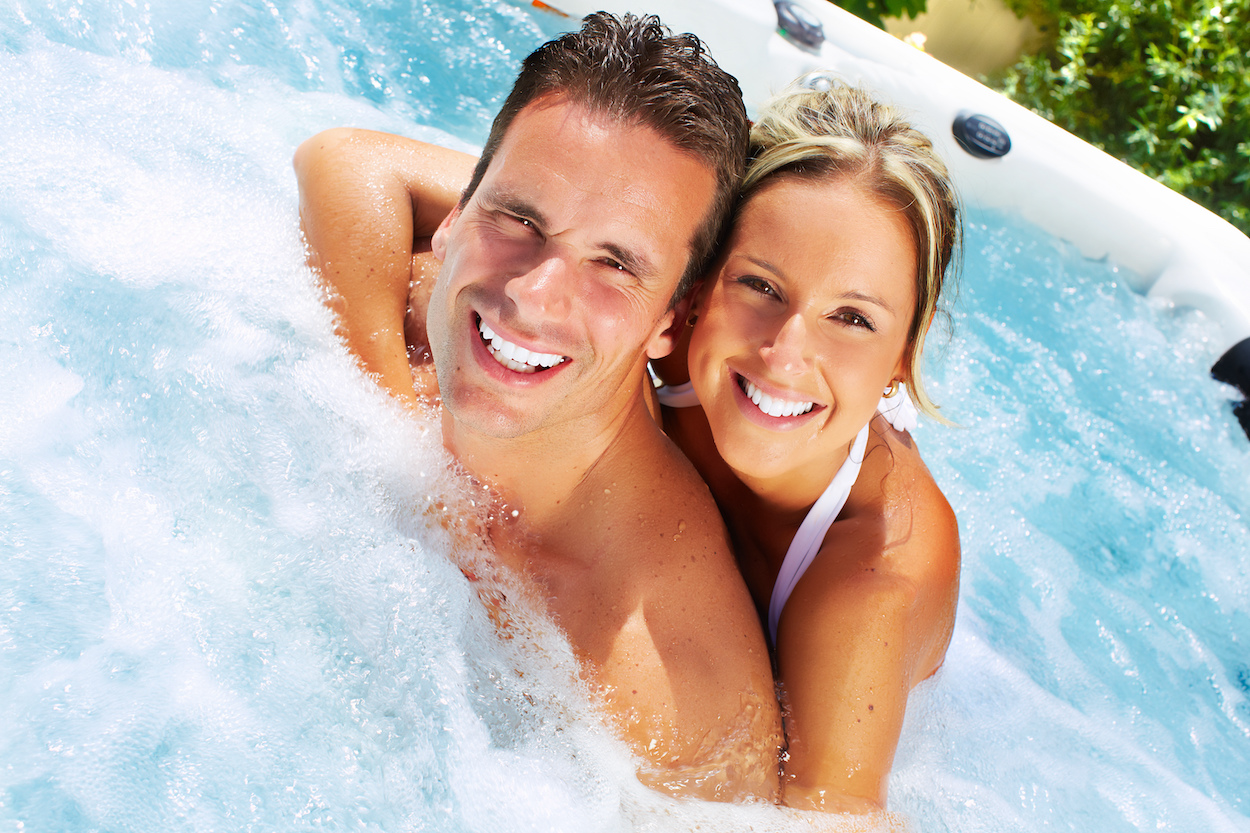 Hot tub holidays guide
08 / August / 2021
Hot tub holidays make the ultimate staycations. Whether you're holidaying as a couple, family or group of friends, everyone loves sitting back and relaxing in the bubbles. Even in the colder months, it's the perfect place to unwind and get the most from your free time.
Our holiday parks with hot tubs in Dorset and Cornwall offer a range of luxurious accommodation options. From safari-style glamping and comfortable caravans to our farm cottages and grand manor house: we have the perfect place for you to enjoy the hot tub getaway of your dreams.
Hot tub holidays Dorset
At our Bowleaze Cove Holiday Park & Spa (formerly Waterside Holiday Park), we have a fantastic selection of caravans with private hot tubs. Our Safari lodges offer a holiday on the wild side, with luxurious touches for a unique escape. Meanwhile, our top-of-the-range Signature option boasts the largest veranda.
Whichever accommodation you choose for your break, we know you'll fall in love with hot tub holidays Dorset.
Safari – Signature
Number of guests: up to 8
Our Safari – Signature accommodation at Waterside Holiday Park offers the ultimate 'glamping' experience. There's room for the whole family to enjoy a unique getaway with a large open plan living area, complete with log burner style gas fire making the perfect spot for cosy evenings round the fire.
Although the beautiful interiors will make you feel like you've jetted off for a luxurious safari adventure, it's likely you'll be spending a lot of your time outside on your private veranda. With a table and chairs, BBQ area and hot tub, that is really the place to be during your stay.
Safari – Deluxe
Number of guests: up to 8
Dog-friendly option available.
Just a touch smaller than the Signature our Safari – Deluxe accommodation transports guests on a wild adventure! There's room for everyone to come along, with three bedrooms: one double, one twin, one bunkbed and the option to make use of a sofa bed in the living area. We also have a dog-friendly Safari – Deluxe option, so you can bring the whole family.
The moment you arrive, your covered veranda awaits, complete with outside furniture, BBQ area and private hot tub. What better place to bubble away the stresses of everyday life?
Find out more about Safari – Deluxe hot tub holidays.  
Signature Hot Tub
Number of guests: up to 6/8
Truly luxurious and the perfect place to unwind, our Signature Hot Tub accommodation is the top of the Signature range at Waterside. This grand caravan with hot tub features the largest veranda on the park, with a table and chairs and, of course, makes the ideal setting for your own private hot tub.
With options to sleep up to 6 or 8, there is plenty of space for everyone, with the master bedroom even enjoying its own en-suite shower room. Sit back and unwind during quality time away on your relaxing hot tub holidays Dorset.
Find out more about Signature Hot Tub accommodation.
Hot tub holidays Cornwall
The second of our holiday parks with hot tubs is Tregoad in Cornwall. Some of our exclusive caravans feature sunken hot tubs on their verandas, while Kingfisher Cottage is a delightful Cornish farm cottage with its own courtyard and tub. For large groups, you could consider Tregoad Manor House for a hot tub holiday on a very grand scale.
Whatever you decide is right for your break, you'll have an amazing holiday in this unique and beautiful setting.
Signature Plus with Hot Tub
Number of guests: up to 6
Dog-friendly option available
Without doubt our most luxurious caravan, the new Signature Plus with Hot Tub is the ultimate accommodation for a break with your other half, friends or family. Finished to a beautiful standard, you will relax the moment you open the door.
Make sure you stock up the designated wine fridge and enjoy cold drinks on the spacious veranda. Whatever your tipple, this is the perfect spot for alfresco dining or spending time unwinding in the sunken hot tub, all with glorious views across idyllic Looe Valley countryside.
Find out more about Signature Plus with Hot Tub
Signature with Hot Tub
Number of guests: up to 6
Specialists in holiday parks with hot tubs, we take huge pride in the accommodation we offer. Light, bright and spacious, our Signature with Hot Tub caravan makes the perfect bolt-hole for anyone seeking a relaxing get-away.
Much like our other caravan with hot tub options, the real highlight is the veranda, with outside dining area and sunken hot tub. This is an unbeatable spot to watch the sun set after another perfect Cornish day. However even when it's time to come inside, you'll love the spacious lounge area, modern kitchen and comfortable beds as you recharge for the next day's adventures.
Find out more about Signature with Hot Tub holidays.
Superior with Hot Tub
Number of guests: up to 6
Dog-friendly option available
Whether you are escaping for a long break or a romantic weekend getaway, you'll spend plenty of your holiday time in the hot tub of your private veranda in this accommodation. Our Superior caravans are bright, light and spacious, with room for up to six guests to comfortably enjoy their stay.
With two bedrooms, and a sofa bed in the lounge, there's room for the whole family to come along. Plus, with a dog-friendly option available, you won't even have to leave your best canine friend at home.
Find out more about Superior with Hot Tub caravans. 
Kingfisher Cottage
Number of guests: up to 12
At Tregoad, we have a selection of beautiful Cornish farm cottages for groups of all sizes. Each is unique, finished to a fantastic standard with original features throughout.
Although all of the cottages are lovely, a real highlight of Kingfisher Cottage has got to be the private courtyard with its own hot tub and outside seating. Imagine returning here after a busy day exploring the county and spending the evening relaxing in total bliss.
Find out more about our holiday cottages.
Tregoad Manor House
Number of guests: up to 18
When it comes to hot tub holidays, Tregoad Manor House has got to be amongst the grandest options available. This huge and magnificent home boasts seven bedrooms, multiple living spaces, an outside area, sea views and its own hot tub.
It's fortunate that the Manor House is so big because everyone will want to join you for an unforgettable trip!
Find out more about Tregoad Manor House.
Get in touch
Browse our website for more holiday inspiration. If you've got any questions, don't hesitate to get in touch. Our friendly team will be happy to help.