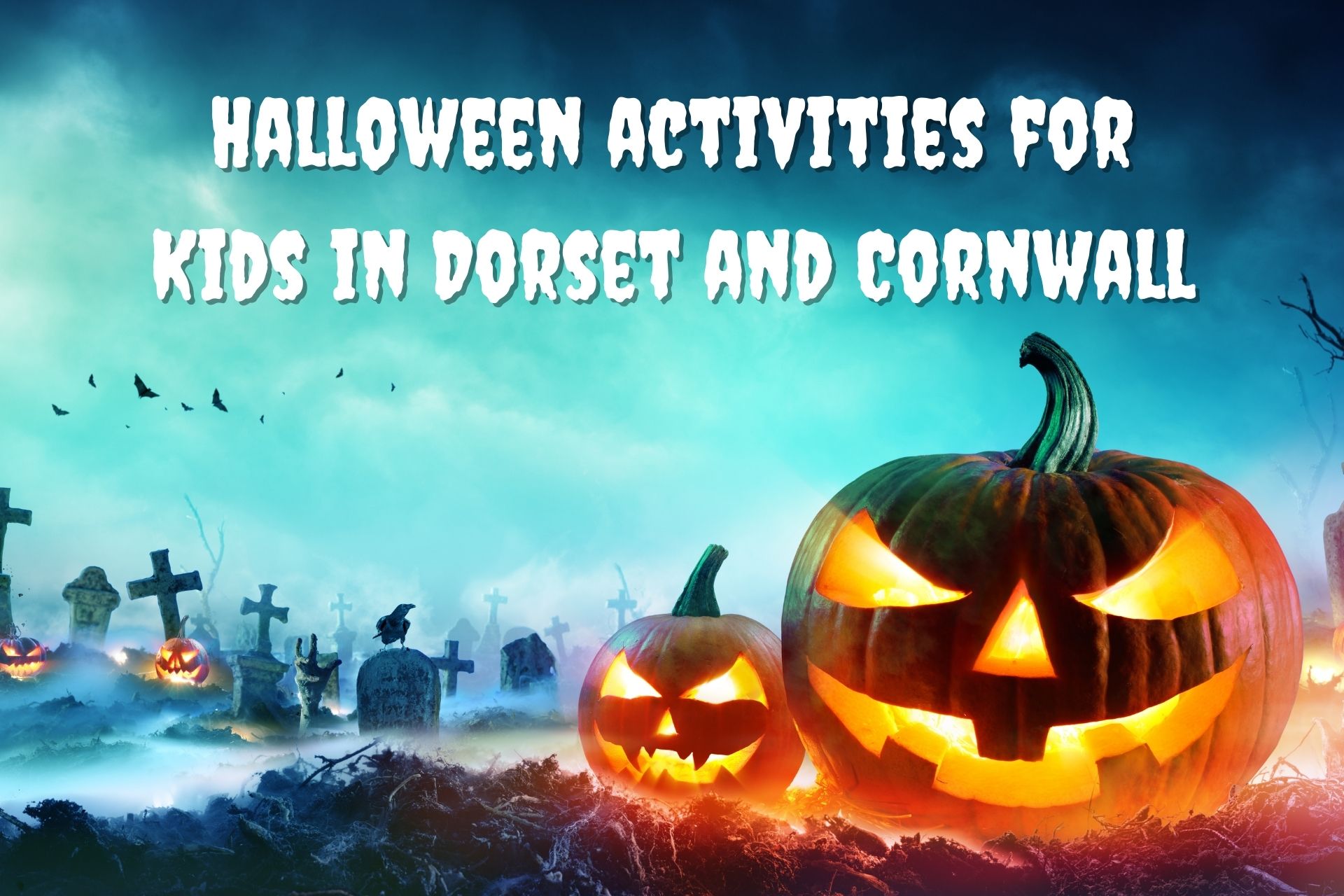 Halloween activities for Kids in Dorset and Cornwall
10 / October / 2021
Fangtastic events & activities in Dorset
If you love exploring local attractions and going to the hottest events on your holidays, then Dorset is the place to be this month. Here's 7 brilliant ways to celebrate Halloween in Dorset.
From bat hunts and ghost tunnels at the Nothe Fort in Weymouth, to potion making and ice skating at the Eden Project in Cornwall, the whole family will love celebrating Halloween in the South-West.
Halloween at Adventure Wonderland
To kickstart our list of Dorset Halloween events is Halloween at Adventure Wonderland.
Can you find your way out of the 'Enchanted' hedge maze? Inside you will bump into the characters from Hansel and Gretel, Little Red Riding Hood, The Elves and the Shoemaker and Rumplestiltskin! Visit the Happydrome Theatre to watch the spellbinding live show 'Little Monsters', sing-along at the hocus pocus party and have a go on all of your favourite rides this half term.
Nothe Fort
This Halloween, the Fort will be offering some wicked tricks & treats. Enter the famous ghost tunnels, hunt for bats hidden around the fort, attend the slime making workshop and pop into the School of Spells… If you dare!
Find out more: https://nothefort.org.uk/news-events/halloween-fun-fort?occurrenceID=3775,
Corfe castle
Visit Corfe Castle this half term and travel back in time to 1572! Learn about the Tudor lifestyle and take part in the Tudor trail. You will also have the chance to see some seasonal scenes around the Castle, can you guess how many pumpkins are there?
Find out more: https://www.nationaltrust.org.uk/corfe-castle/features/meet-trendy-tudors-this-october-half-term,
Weymouth Sea Life: Aquarium to Ascarium!
This year, Sea Life as we know it will be transformed from Aquarium to an Ascarium! Meet the sea witch and set off on an adventure to find her missing potion ingredients, hidden deep in the tanks and guarded by the spookiest sea creatures you will ever see. You may even get a reward for your bravery!
Find out more: https://www.visitsealife.com/explore/uk-eire-events/ascarium/
Halloween & Half Term Events at Farmer Palmers
Falmer Palmers has had a fa-boo-lous makeover for Halloween! Dress-up in your spookiest costume and hop-on the 'Soak-a-Spook' Tractor ride and take part in their BRAND-NEW pumpkin pick event.
Find out more: https://farmerpalmers.co.uk/whats-on-and-events/
Moores Valley Halloween Trail
Explore Moores Valley Railway this half term and take part in the scarily good Halloween trail. Spot the pumpkins on your journey around the creepy railway, take note of the letters you find to decipher a secret Halloween related word to claim a prize.
Weymouth Pavilion
Discover the fang-tastic Halloween Spooktacular show, live at the Weymouth Pavilion this October. The whole family will love this BRAND-NEW production!
Find out more: https://weymouthpavilion.com/shows/halloween-spooktacular/
Spooktacular events & activities in Cornwall
Caravan holidays in Cornwall are even better with an exciting itinerary! There are so many Cornwall Halloween events going on this month, it will be tricky to choose which one to attend first!
Paradise Park Spooktacular Creepy Halloween
Journey over to Paradise Park this half term for a frighteningly fun adventure with wicked wildlife! Learn eerily interesting wildlife facts on the Pumpkin Trail, get a ticket for the Jungle Express Train, watch the penguin and otter's feeding time, discover hiding dinosaurs and skeletons and much, much more…
Find out more: https://www.visitcornwall.com/whats-on/special-occasions/west-cornwall/hayle/spooktacular-creepy-halloween-half-term
Halloweden
The Eden Project is a real treat all year through. This Halloweden, watch the Bakehouse Factory's bespoke show, learn all about the Screech Owl Sancturary's beautiful birds, solve the spooky puzzle trail, take part in the potion making workshop, before heading on over to the skele-fun ice rink.
Find out more: https://www.visitcornwall.com/whats-on/special-occasions/south-coast/st-austell/halloweden
Halloween at the Museum 2021
Get dressed up this Halloween and visit the National Maritime Museum to take part in the terrifying, torch-lit trail! Find the scary sea spirits hiding in the Museum and learn all about the museum's interesting history.
Find out more: https://www.list.co.uk/event/1689554-halloween-at-the-museum-2021/108464-national-maritime-museum-falmouth/
Spooky October half term at Flambards
For some ferociously fun family-time, head to Flambards this half term. Experience monster magic shows and spooky pumpkin trails, squeal on your favourite rides and watch the fabulous firework show.
Find out more: https://www.visitcornwall.com/whats-on/special-occasions/west-cornwall/helston/spooky-october-half-term-flambards
Pendennis Castle
Take part in the BRAND-NEW adventure trail at Pendennis Casele, inspired by the bestselling series 'Wizards of Once'. Hunt for the spell ingredients to banish witches and discover the Cup of Second Chances! Don't forget your spookiest fancy dress.
Find out more: https://www.visitcornwall.com/whats-on/special-occasions/south-coast/falmouth/halloween-quest-pendennis-castle
There's so much to see and do for Halloween in Dorset and Cornwall this half term, how will you be celebrating this year?
Please be sure to check opening times/ book prior to your visit to avoid disappointment.
Book your Halloween break with Bowleaze Cove Holiday Park & Spa (formerly Waterside) today.