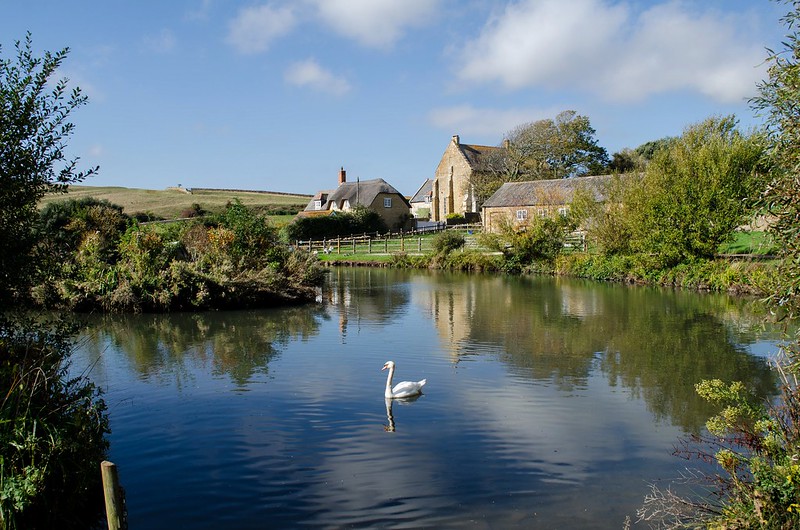 4 Reasons Why Abbotsbury has Inspired Artists Through the Ages
28 / October / 2022
Located on Dorset's beautiful Jurassic Coast, the historic village of Abbotsbury is brimming with charm. Renowned for a range of attractions and boasting stunning scenery, it has inspired an array of artists throughout the ages. Here's why:
1. Its Beautiful and Unique Landscape
Located in a secluded valley and surrounded by the lush Ridgeway hills, Abbotsbury's sheltered location gives it a warm microclimate. The unique landscape inspired many of Thomas Hardy's novels and also formed the set location for the production of the 2015 film "Far From the Madding Crowd" starring Carey Mulligan.
In the village you'll also find Abbotsbury Subtropical Gardens, an RHS partner site which boasts a mixture of formal and informal flowers. World famous for its Camellia groves and magnolias, many also visit to see its stunning display of Rhododendron and Hydrangea.
2. Its History
Abbotsbury is brimming with historic charm. Rumoured to have been inhabited by humans for over 6000 years, the village is a place of archaeological interest. Abbotsbury also has a thriving local community that respects the village's history with a community made up of trades and craftspeople.
3. Its Walking Trails
Abbotsbury is renowned for its many walking trails that attract hikers from far and wide. Ideal for inspiring your inner artist, nearby walks include The Hardy Way, which starts at Thomas Hardy's birthplace at the National Trust's Hardy's Cottage and finishes where part of his remains are buried ‐ St Michael's Church in Stinsford. There's also the Jurassic Coast Path and the Ridgeway Path, an ancient trackway that offers remote rural surrounds.
4. Its Studios and Galleries
Given Abbotsbury's incredible scenery it's little surprise that the village boasts many local artists. Head to Abbotsbury Studio for an array of painting and drawing classes that use the local area as inspiration. Or if you want to pick up some souvenirs then Helen Millard Cameo Glass has hand-blown pieces which have been inspired by the local nature.
Where to stay near Abbotsbury:
Bowleaze Cove Holiday Park & Spa (formerly Waterside Holiday Park)
Around a 20‐minute drive from Abbotsbury and just eight minutes from Weymouth, Bowleaze Cove Holiday Park & Spa, with its beautiful beachfront location, makes a fantastic choice for a last-minute UK holiday. As well as an enviable location, the Park boasts a whole host of facilities including a spa, a pool, an entertainment schedule, children's play areas, an arcade and much more. There are also various accommodation options including Safari Lodges with hot tubs and dog-friendly options. 
Chesil Beach Holiday Park (formerly Chesil Vista)
Less than a 20-minutes drive from Abbotsbury, Chesil Beach Holiday Park offers a luxurious base for exploring the historic village. Onsite you can soak up stunning views of the 18‐mile‐long Chesil Beach and make the most of the wide‐ranging facilities, including a pool, children's soft play, live evening entertainment, a sauna, gym and much more! There's also a great choice of deluxe accommodation including Signature Seaview holiday homes.
Osmington Mills Lodge Park
Just a 25-minute drive from Abbotsbury, Osmington Mills Lodge Park offers holidaymakers a peaceful retreat. Surrounded by woodland, the park boasts a pool, children's play area, a gym and a charming restaurant and bar with a varied menu. The park also has dreamy sea views and a great choice of accommodation, including luxurious lodges with private hot tubs.