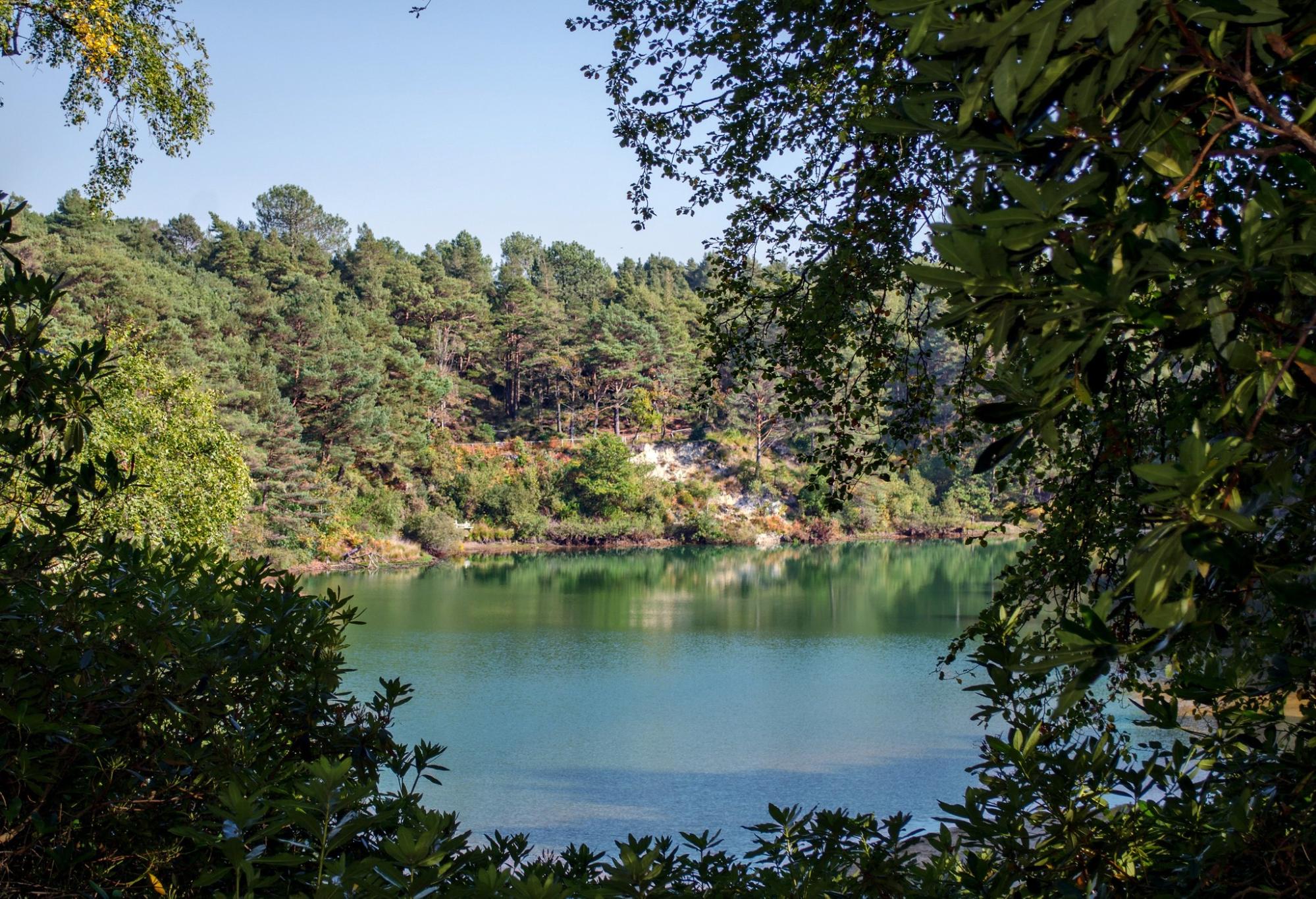 Everything you need to know about Blue Pool in Dorset
27 / September / 2022
The picturesque Blue pool in Dorset has captured the imaginations of thousands of visitors. Located on the Isle of Purbeck, just a 35-minute drive from Bowleaze Cove Holiday Park & Spa (formerly Waterside Holiday Park and Spa), it's famous for a phenomenon caused by light diffraction off of clay particles beneath the water which gives it its beautiful colour. Since it's such a popular site and close to several of our parks, we've put together a guide on everything you should know about it before visiting.  
It's located in an Area of Outstanding Natural Beauty
Blue Pool is located on the Isle of Purbeck, a stunning peninsula in Dorset that's home to an array of famous sites including Lulworth Cove and Durdle Door. This large stretch of land along the Jurassic Coast has been named an Area of Outstanding Beauty due to its breathtaking landscapes. You'll find Blue Pool nestled within woodland, located between Wareham and Corfe Castle.
Its name can be deceiving
A former clay pit, Blue Pool isn't always blue. In fact, the pool can also appear a very dark blue, grey, green and even brown – this is due to light diffraction from the particles in the clay.
Blue Pool is a special site
As well as its changeable colour, Blue Pool is a unique beauty spot that came to be by circumstance. An abandoned clay pit, the pool was naturally flooded by rainwater and now forms a beautiful lake with ever-changing colours. Blue Pool's uniqueness makes it one of Dorset's most intriguing attractions and a great place to take photos!
You can't swim in the Blue Pool
Reaching just over nine metres at its deepest point, it is not safe to swim in the Blue Pool. However, Blue Pool's beauty makes it well worth a visit! 
You can enjoy dreamy views at the Tea Rooms
Close to the entrance gate, you'll find the popular Tea Rooms which serve up hot and cold drinks and a range of snacks including pastries, cakes and local Purbeck ice cream. Dating back to 1935, the tearoom boasts a terrace offering fantastic views of Blue Pool, if the weather permits.
There's also a gift shop
Situated beside the Tea Rooms, the Blue Pool gift shop has a range of souvenirs including Purbeck chocolate, local artwork, ceramics and presents for children.
Blue Pool is surrounded by lush vegetation
Blue Pool in Dorset is surrounded by 25 acres of beautiful heathland with rare plants and a network of sandy paths. Tourists can visit the Blue Pool via steps or take a completely flat route, the best option for those with pushchairs or wheelchairs.
The surrounding vegetation boasts wildlife galore
The lush woodland surrounding Blue Pool is home to grey squirrels, rabbits and badgers. Visitors may also spot rare birds, and the land is inhabited by protected reptiles including the green sand lizard and the smooth snake. There are also an array of dragonflies and the rare Sika deer.
The 1.9-mile trail around Blue Pool takes around 50 minutes to complete
If you fancy getting your daily steps in then the wonderful walk around Blue Pool can be completed in under an hour. It's unlikely you will encounter many other visitors during this serene jaunt.
Blue Pool estate is a Site of Special Scientific Interest
Due to the rare plants and animals that inhabit the estate, Blue Pool was declared a Site of Special Scientific Interest in 1985. This means that the area's rare fauna and flora are now protected by law.
Need somewhere to stay near Blue Pool? Check out our luxurious Dorset holiday parks and plan your stay today!