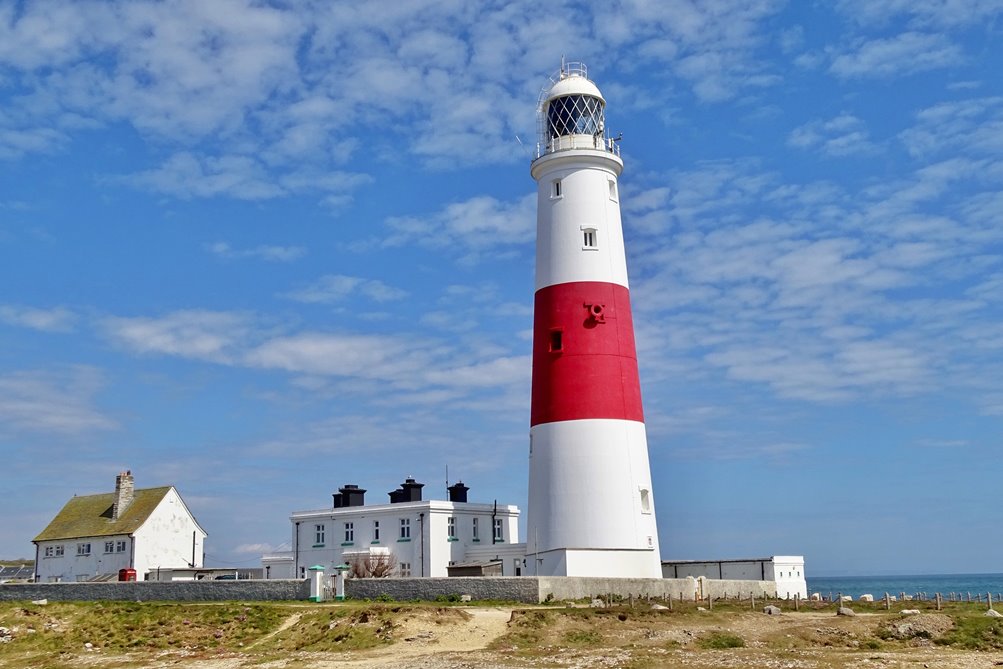 8 things to do in Portland Dorset
07 / September / 2023
Portland is a picturesque limestone island located off the coast of Dorset. Known for its dramatic coastal landscapes, it boasts rugged cliffs, hidden coves, and serene beaches. Thanks to its location, it's also rich in maritime history, offering a unique blend of natural beauty and nautical heritage. Here are several fascinating and enjoyable things to do in Portland, Dorset.
Our favourite things to do in Portland, Dorset
Portland Bill Lighthouse
Portland Bill Lighthouse was completed in 1906 and stands at 41 metres high. Characterised by its distinctive red and white striped design, it's a sight for sore eyes, and the views you get from the top of it are pretty impressive, too. That's if you make it up all 153 steps to get there! With breathtaking Jurassic Coast views, we can assure you it's worth the effort.
Entry to the visitors' room and to the tower costs £8.50 for adults and £6.50 for children under 16 (please note, there's a minimum height restriction of 1.1 metres to climb the tower).
Portland Castle
Overlooking Portland Harbour, Portland Castle was built in the 1530s on the order of Henry VIII to ward off Spanish and French military forces. Included in its admission price of £9.50 for adults and £5.50 for children is an audio tour that will bring to life the castle's vast history. Aside from this captivating learning experience, you can enjoy gorgeous sea views and wander through the Heritage Garden and Tudor kitchen. It's a great day out for visitors of all ages.
Church Ope Cove
One of Dorset's many beautiful beaches, going to Church Ope Cove is one of the nicest things to do in Portland Dorset in the summer. It's a pebble beach sheltered by cliffs on three sides and, as it's south-facing, you can expect a fair share of sun here in the summer, making it a great sunbathing spot. It's also popular with swimmers. If you do decide to take a dip, stick close to the coast as there are no lifeguards and the current can get quite strong.
Portland Museum
Dinosaurs, fossils, shipwrecks and more. These are just some of the things you can expect to learn about during a visit to the Portland Museum. Ever since its opening, this site has amassed an impressive amount of items which fall into the following categories:
Portland People
Maritime Portland
Portland Stone
Jurassic Portland
To enter, it costs adults £4.95, children between the ages of 6 – 16 £1 and under fives go for free.
Chesil Beach Visitor Centre
While not technically in Portland, the Chesil Beach Visitor Centre is pretty close – less than a 10-minute drive away. A recipient of a 2023 Tripadvisor Travellers' Choice Award, you'll find it at the southern end of the Fleet Lagoon offering educational displays about the famous Fleet and Chesil Beach. Onsite is also a gift shop and a cafe where you can pick up some refreshments. If you're feeling adventurous, you can take a glass-bottomed boat from here into the lagoon to marvel at its wildlife. This is just one of several great Dorset boat trips.
Blacknor fort
Blacknor Fort was built in the 20th century as a coastal defence and was in operation during both World Wars. Now privately owned, it doesn't have a visitor centre but is still worth going to see for its historical significance.
D Day Centre and WW2 Museum
Continuing the military theme, this centre features a vast collection of original WW2 artefacts, weapons and vehicles. During a visit here, guests can interact with the artefacts and vehicles and even dress up in WW2 uniforms, providing great photo opportunities and fun for the little ones.
Where to stay in Portland
If you're planning a trip to Portland, you can choose from three of our award-winning luxury parks. Find out about our Dorset accommodation from lodges, apartments and stunning caravans and secure your booking with a low £40 deposit.